CallConnect's on-demand bookable and timetabled service are operating.  
From Tuesday 1st September all fares will be payable on Callconnect services (concessionary bus passes still accepted).
In addition, our North of Lincoln and Saxilby & West of Lincoln CallConnect services will provide direct journeys to Lincoln City Centre without the need to make a connection.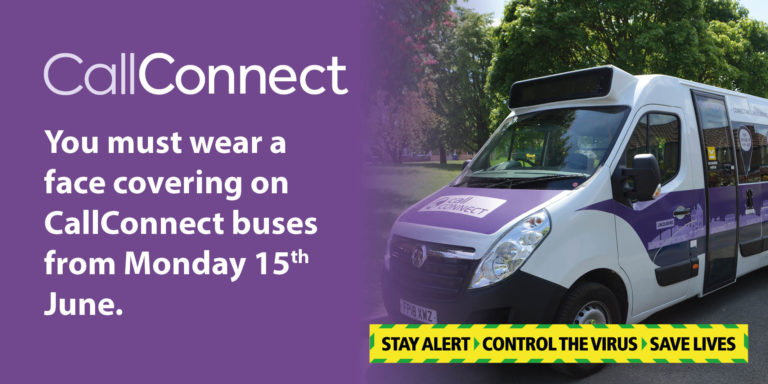 From Monday 6th July CallConnect's timetabled services will be returning.
Please note that due to social distancing restrictions we have had to reduce our vehicle capacity. This means if you wish to travel on these services YOU MUST pre-book to reserve a seat. This can be done by phone or online through our booking portal. These services can no longer be used as turn-up and go services for the foreseeable future.
If the timetabled service that you would normally use is currently suspended, call the booking office to see if you can use the bookable service to complete your journey.
Any updates will be available here at www.lincsbus.info or on twitter at @callconnectbus
We really appreciate your patience and understanding as we react and adapt to the outbreak to the Coronavirus (Covid-19)
Please note that due to the frequently changes to bus service schedules, the timetables at bus stations and bus stops may not be showing the current timetable. Always check your journey times online or with the operator.
Travelling on Public Transport
Consider all other forms of transport before using public transport.
Before and during your journey, check with your transport operator for the latest travel advice on your route.
Travel may take longer than normal on some routes due to reduced capacity and social distancing measures. Allow sufficient time if your journey involves changes between different forms of transport. If you can, travel at off peak times.
From Monday 15th June, you should wear a face covering when using public transport.
Keep your distance from people outside your household. Ensure you maintain social distancing, where possible, including at busy entrances, exits, under canopies, bus stops or outside of stations
There are many ways to contact us; Live Chat, Contact Us forms or call and speak to an advisor. Find out the best way to contact us here.
Lincolnshire Transport Helpline
Are you looking for information and advice about transport in Lincolnshire? Then the Transport Helpline will point you in the right direction.
Transport options in Lincolnshire range from frequent timetabled bus and rail services to rural on-demand buses providing vital connections plus a wide range of community and volunteer transport schemes that offer assistance to those looking for extra help.