Grantham Callconnect operates six-days-a-week: 7am-7pm, Monday-Friday, and 8am-6pm on Saturdays. In addition to our easy-to-use bookable bus services, there are additional timetabled services: Service 4 Grantham to Stamford; and Service 26 Aslackby/Billingborough to Grantham to complement the on-demand bus service.
Callconnect does not offer town journeys in Grantham except for passengers who have mobility impairment and may use mobility aids such as wheelchairs and walking frames.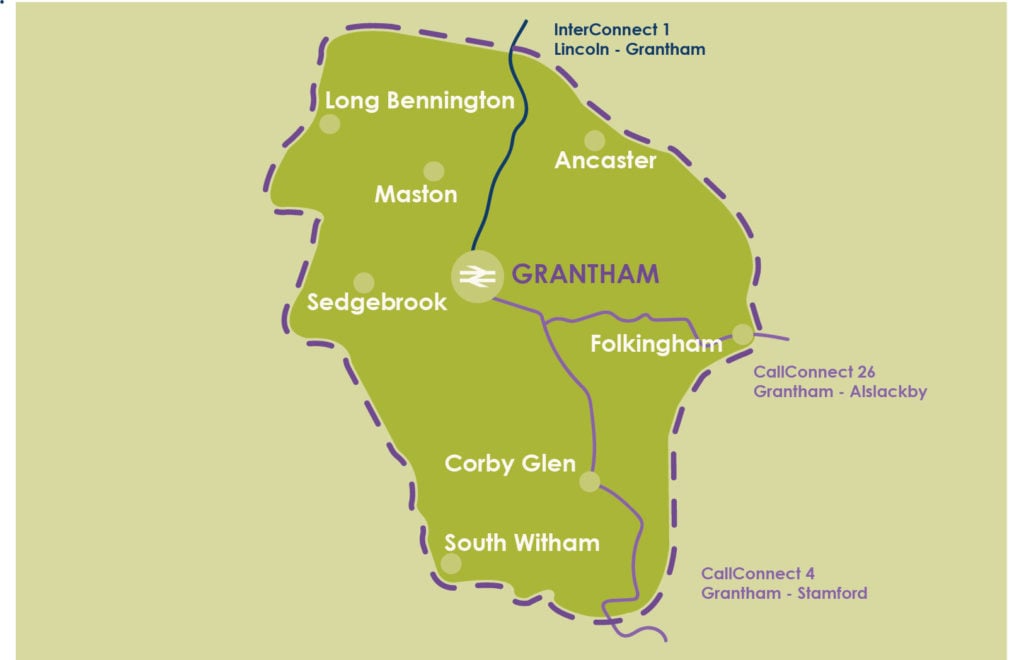 Aisby
Allington
Ancaster
Aswarby
Aunsby
Barkston
Barrowby
Bassingthorpe
Belton
Birkholme
Bitchfield*
Boothyby Pagnell*
Braceby
Brandon
Burton Le Coggles*
Carlton Scroop
Castle Bytham* 
Caythorpe
Cold Harbour
Colsterworth
Corby Glen*
Counthorpe
Creeton*
Culverthorpe
Denton
Dry Doddington
Easton
Folkingham*
Foston
Gonerby Moor
Great Humby
Great Gonerby
Great Ponton
Gunby
Haceby
Harlaxton
Harston
Hongington
Hougham
Hough on the Hill
Hungerton
Ingoldsby
Irnham
Kelby
Lenton
Little Bytham* 
Little Humby
Little Ponton
Lobthorpe
Londonthorpe
Long Bennington
Low Somerby
Lower Bassingthorpe
Marston
Newton
North Witham
Oasby
Old Somerby*
Osbournby
Pickworth
Ropsley
Sapperton
Sedgebrook
Skillington
South Witham 
Stainby
Stenwith
Stoke Rochford
Stroxton
Stubton
Sudbrook
Swarby
Swayfield*
Swinstead*
Syston
Walcot
Welby
Westborough
Wilsford
Woolsthorpe by Belvior
Woolsthorpe by Colsterworth
Wyville Cum Hungerton
* Also served by timetabled services
Callconnect also provides the following timetabled services in additional to its bookable bus service. 
Grantham is a large town in the south of Lincolnshire. It is located close to the A1 north-south trunk road and the east-west A52 runs through the town. In addition to road connections, Grantham has plenty of rail connectivity with the London-Edinburgh East Coast mainline and the Nottingham-Boston-Skegness PoacherLine, stopping at and running through the town. These transport links offer those living in the area fantastic connectivity to London, Nottingham, Sleaford, Lincoln, Stamford and many more locations.
In addition to a wealth of transport options, Grantham has a rich and proud history dating back to its inclusion in the Domesday Book. As the birthplace of Sir Isaac Newton it celebrates with festivals and heritage events such as Apple Day to recognise his invaluable contribution to the world of science.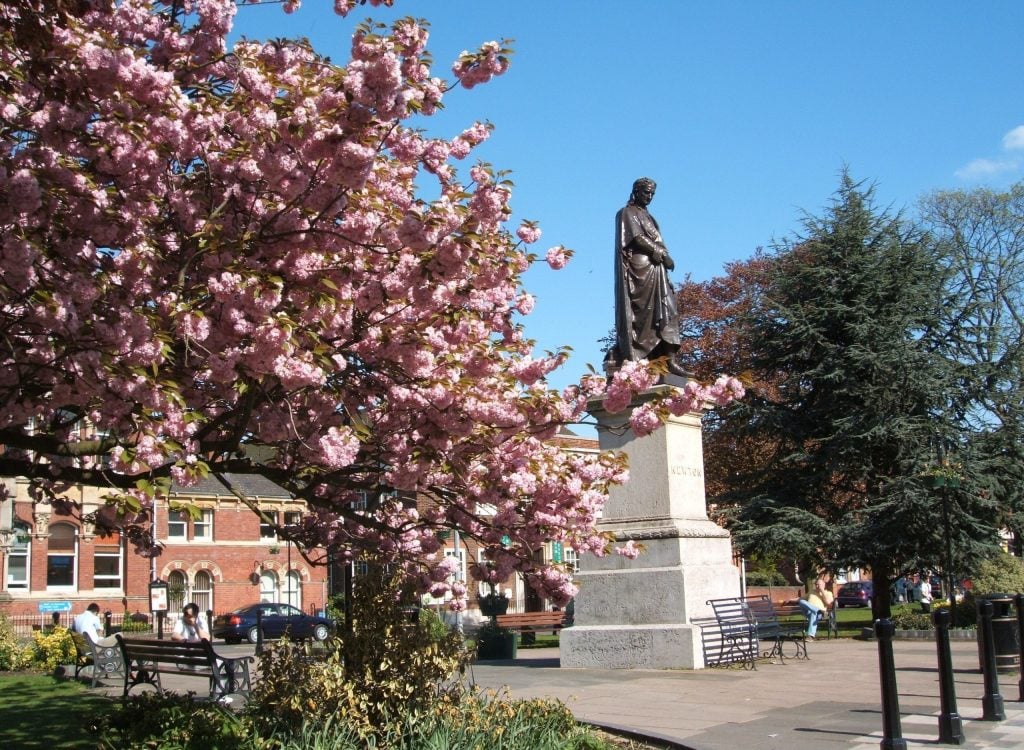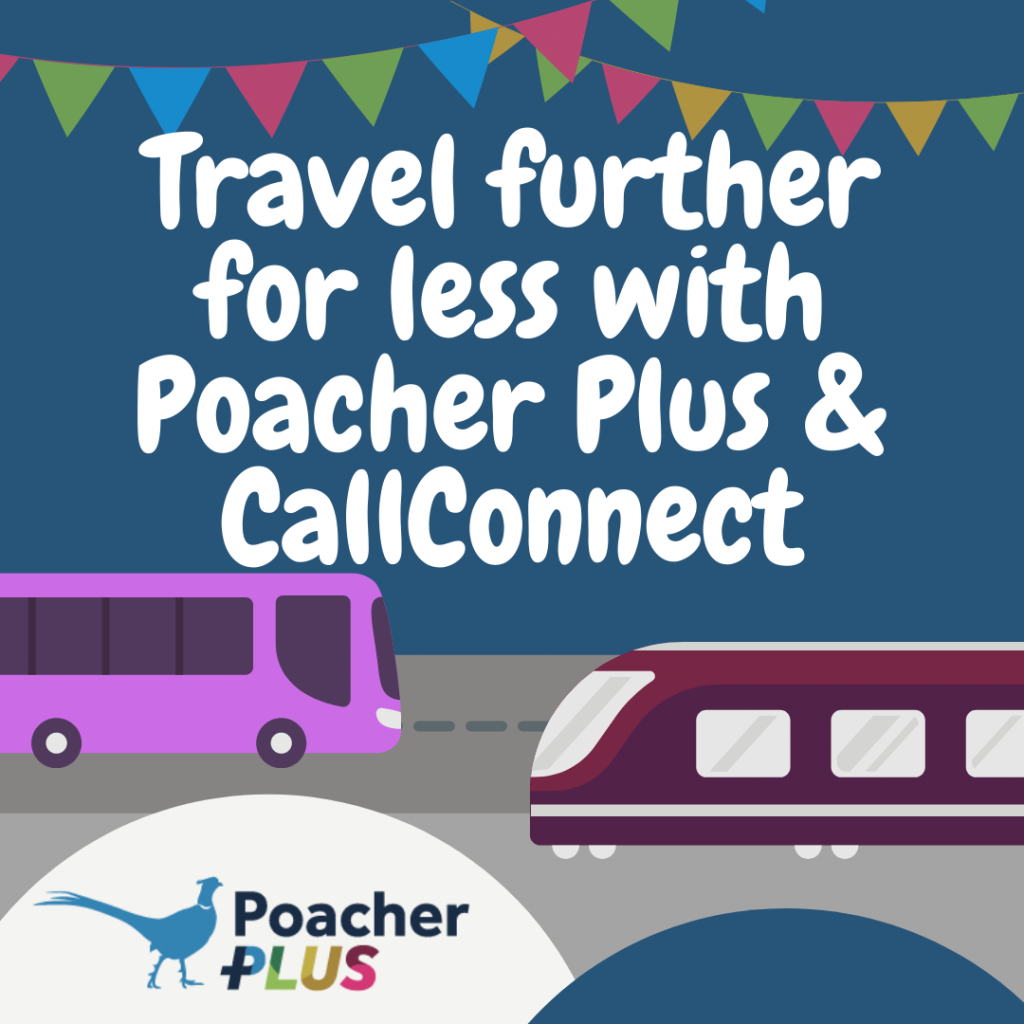 Connect to and from all Lincolnshire Poacher Line stations with the Callconnect bus service for only £1 each way.
Here you'll find all you need to know about Callconnect. Travel today on our easy to use bookable bus service.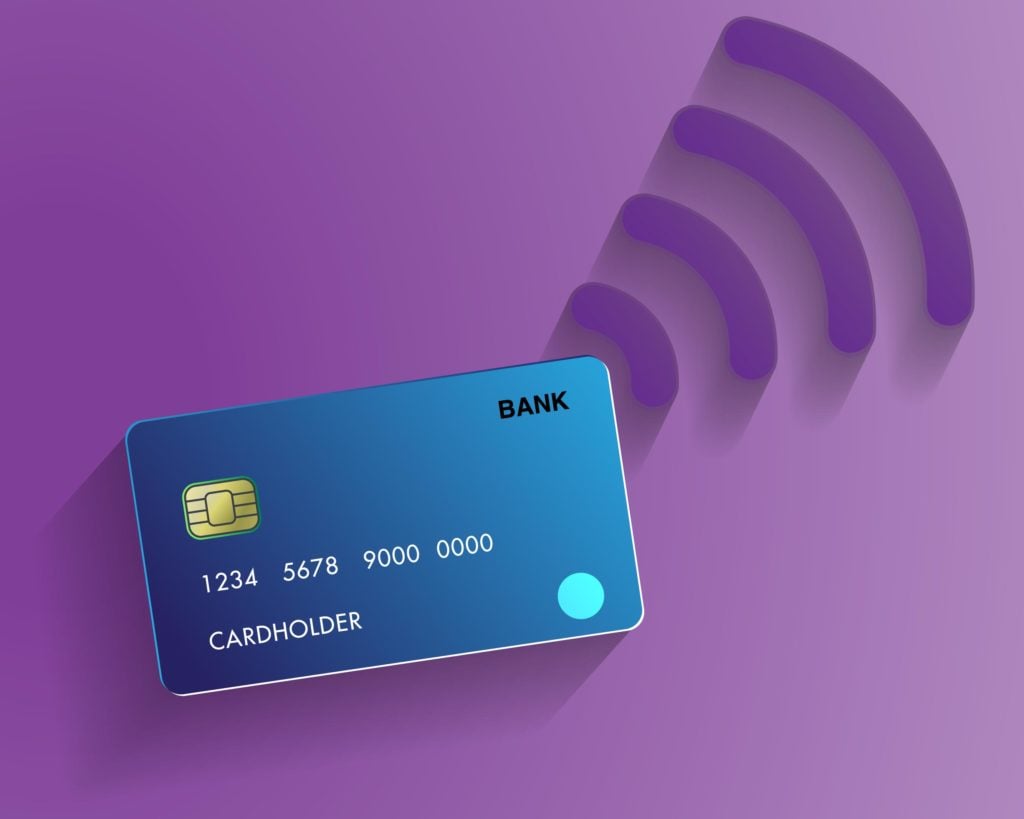 You can now use contactless payments on our Callconnect services.