Horncastle Callconnect operates six-days-a-week: 7am-7pm, Monday-Friday, and 8am-6pm on Saturdays. In addition to our easy-to-use bookable bus services to connect to Horncastle, there is the additional timetabled service: Service 24 Horncastle to Louth.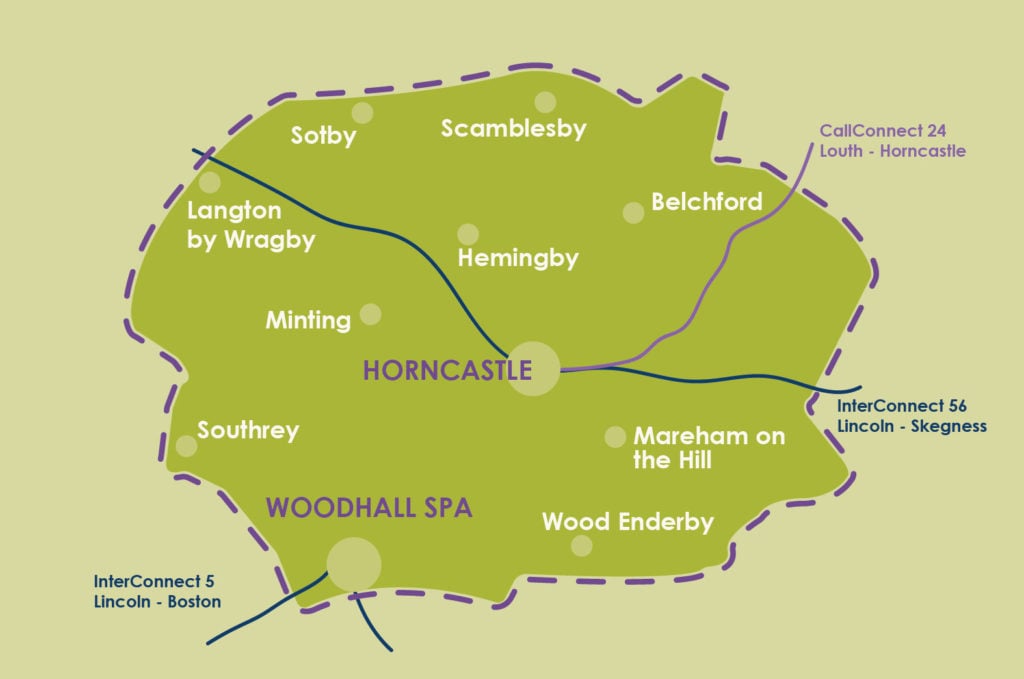 Asgarby
Ashby Puerorum
Asterby
Bag Enderby
Baumber
Belchford*
Brinkhill*
Bucknall
Chambers Farm Wood
Claxby Pluckacre
Dalderby
Edlington
Farforth
Fulletby*
Gautby
Goulceby
Great Sturton
Greetham*
Hagworthingham
Haltham
Hameringham
Hareby
Hatton
Hemingby
High Toynton*
Horncastle
Horsington
Kingthorpe
Kirkby on Bain
Langton by Horncastle
Langton by Wragby
Little London
Low Hammeringham
Low Toynton
Lusby
Maidenwell
Mareham Le Fen
Mareham on the Hill
Market Stainton
Martin
Mavis Enderby
Miningsby
Minting
Moorby
Old Woodhall
Oxcombe
Panton
Ranby
Roughton
Roughton Moor
Salmonby*
Scamblesby*
Scrafield
Scrivelsby
Snipe Dales
Somersby
Sotby
Sotby Wood
Southrey
Stainsby
Stixwould
Stockwith Mill
Tetford*
Thimbleby
Thornton
Toft Hill
Waddingworth
West Ashby*
Wilksby
Winceby
Wispington
Wood Enderby
Woodhall Spa
* Also served by a timetabled service.
Callconnect also provides the following timetabled service in additional to its bookable bus service. 
Horncastle is a market town full of character, located in the heart of the stunning Lincolnshire Wolds and sitting between the River Bain and River Waring. The A158 runs through the town and the InterConnect 56 bus makes use of this road to provide an hourly service between Lincoln and Skegness. It was in Horncastle that the Callconnect service launched in 2001, putting it at the forefront of on-demand bus services.
Horncastle, specialising in antiques, is steeped in heritage and history dating back to its inclusion in the Domesday Book of 1086 when the town was claimed to be owned by King William. The remains of the town's Roman wall can still be found in the library, and the cobbled streets and thatched houses have strong connections with the Lincolnshire rebellion of 1532 against the policies of King Henry VIII and the English Civil War. Horncastle's most famous son is one of the world's most famous botanists and explorers, Sir Joseph Banks, who travelled the world with Captain Cook and was advisor to King George III on the Royal Botanic Gardens at Kew. He is credited with bringing 30,000 plant specimens home with him.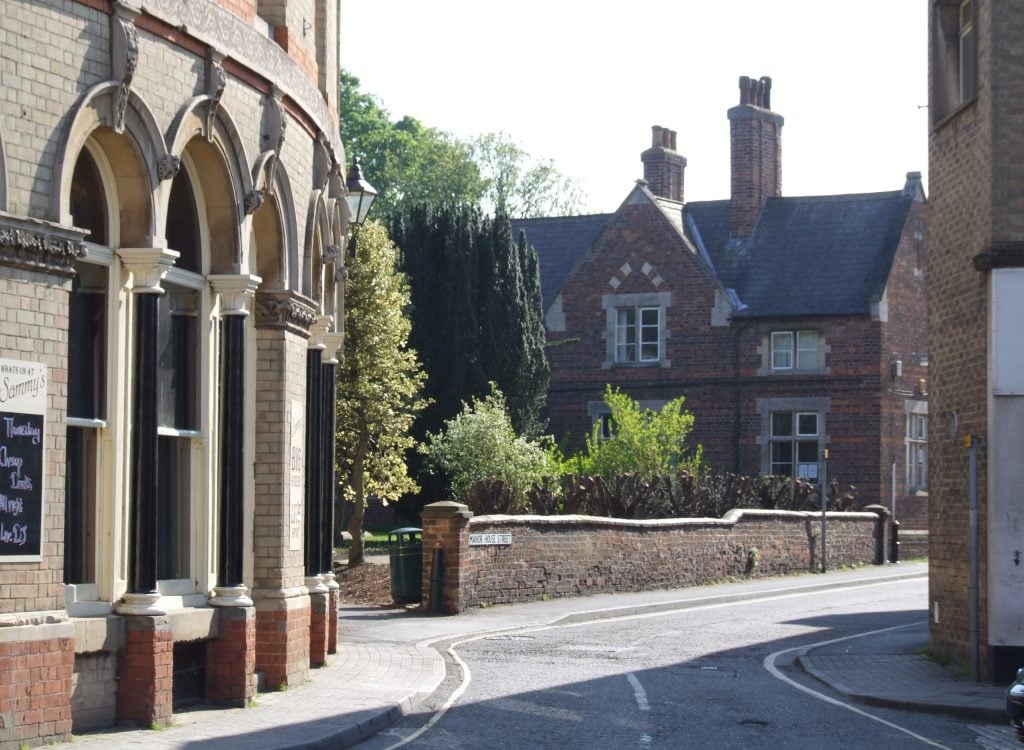 Here you'll find all you need to know about Callconnect. Travel today on our easy to use bookable bus service.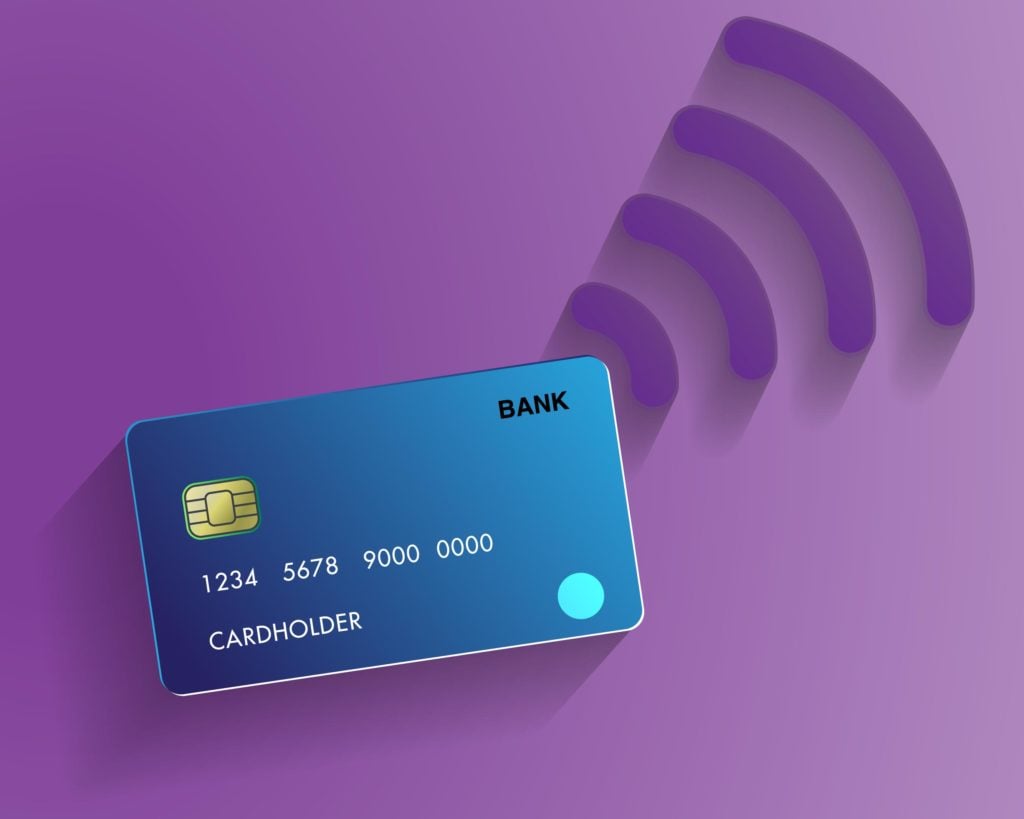 You can now use contactless payments on our Callconnect services.