From 4 September – All single rides on Callconnect are capped at £2. For more information Click Here
Callconnect is an on demand bus service. Since 2001 our buses have been serving hamlets, villages and market towns throughout Lincolnshire. We offer passengers the flexibility to connect to their local communities, services and other transport options.
Our 'book a bus' service works on passenger journey requests that then form a  schedule. This gives you the flexibility to be able to travel when it suits you the most.
In addition to our bookable service, we also offer a range of traditional timetabled services, complementing the bus network.
Register
Before you book your journey you'll need to register your details. It's quick and free.
To register either click to complete the form  below or get in touch by calling the booking office. Give your details and you'll be issued with your registration number that is used for booking your journeys.

Booking
Your journey can be booked by phone or online, from 1 hour's notice or up to 7 days in advance (subject to availability).
We will confirm your journey time and if the exact times you requested are not available, we'll suggest the nearest alternative. All Journeys are subject to availability. Some routes and times are very busy and we advise passengers to give as much notice as possible.
To keep you connected to the wider transport network let the booking centre know if you have a rail or bus connection to make when you travel on Callconnect – it's important to us that we help you get to where you want to be.
If you are travelling on a Callconnect timetabled service, you only need to book if the timetable is noted with a 'B' at your desired pick up or drop off location.
Travel
Simply turn up at your confirmed pick up point, pay your fare or show your concessionary bus pass and enjoy the journey!
To help keep our buses running to schedule, be at your pick up point a few minutes before your booked time. 
Due to the nature of demand responsive transport, our flexible buses can arrive up to 10 minutes after your confirmed booking time. Please note that our busy schedules do not allow enough time to wait for passengers who are not at their booked pick up point.
Fares vary according to distance and are calculated on a zonal basis.
Children aged 5-15 pay half the adult fare
Under 5's travel Free with an accompanying adult
Save money with our 10 Journey Saver Ticket
You can use your concessionary bus pass on Callconnect
Every Callconnect bus operates within an area of up to 12 miles giving passengers access to hundreds of locations. Serving small hamlets, remote villages, rural communities and market towns, our minibuses enables passengers to connect and travel further. 
Some locations may fall under more than one Callconnect operating area. To find out which Callconnect service covers your locaton click on the A – Z Location finder below.
Home pick ups and drop offs are available for people who are unable to use conventional bus services due to age, disability or mobility impairment. Please call 0345 234 3344  for more information or use our live chat facility.
The Callconnect service operates 6 days a week, Monday to Saturday excluding Bank Holidays. Journeys are available to be booked from 7am to 7pm Monday to Friday and 8am to 6pm on Saturdays. Please be aware that the drivers do have breaks throughout the day in line with government guidelines, meaning that there are period of time where the bus is unavailable.
Callconnect journeys are subject to availability with more demand for journeys at certain parts of the day.  If you need to travel at a specific time, for example a connection, an appointment or for work, please book with as much notice as possible.   You can book up to 7 days in advance or on the same day as you wish to travel. A minimum of an hours notice is required to communicate your booking with the Callconnect driver.
For detail of the Callconnect booking office open hours please click below.
Contact us using our form below or call and speak to an advisor. 
Keep up to date with Callconnect news and information. 
If you would like further information regarding the Callconnect bus service you can call our friendly booking team on:
Bourne, Stamford, Rutland and Peterborough Callconnect 
0345 263 8153
Lincolnshire Callconnect 
0345 234 3344
Visit our Frequently Asked Questions page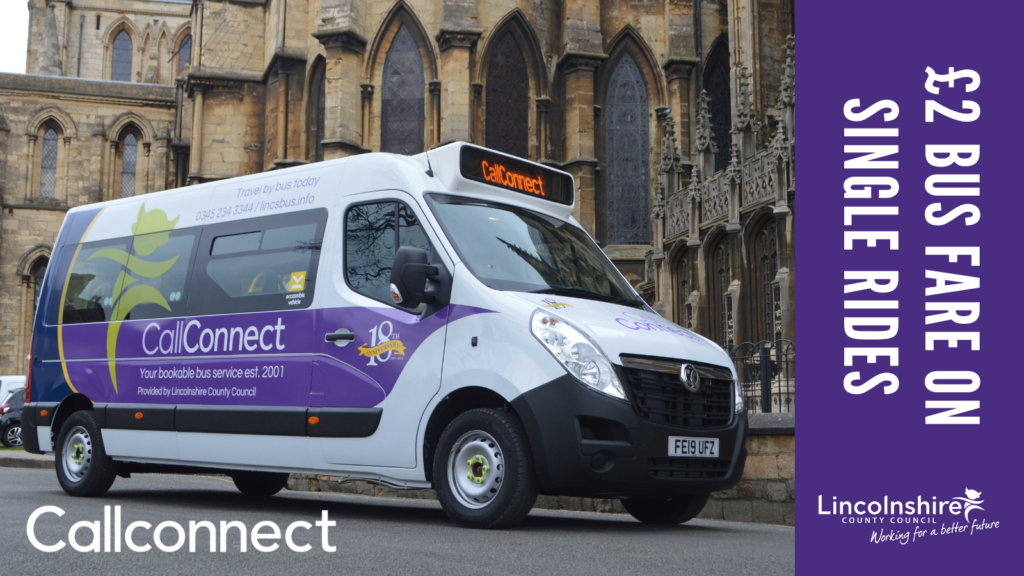 CALLCONNECT single rides are capped at £2 in line with Government initiatives. 
Where will you go next on Callconnect?